Dr. Shoemaker has been using the "Mint" model mattress for nearly four years and recommends them to our patients.
Order mattress on www.tuftandneedle.com
---
The Therapeutica® cervical neck support pillow was created by an ergonomic designer, along with a doctor of chiropractic, for those who sleep on their back or side. This nonallergenic foam pillow offers comfortable, yet firm, support to help restore the natural curve of the neck. Each pillow comes with a machine washable, soft, fitted, zip-open cover that is easily removed for washing. For those who are newer to cervical support pillows, or prefer slightly softer foam, the "Lite" version may be a better option for you. The Lite version provides moderate to firm support, while the standard version provides very firm support.
Ordering the correct size Therapeutica Pillow is key to helping improve your sleeping posture. IMPORTANT: The product size for this item does not correlate with your clothing size. Please be sure to read the sizing instructions and download the Therapeutica sizing guide on how to select the correct size pillow before you complete your purchase.
It may take some time to adjust to this cervical pillow and immediate overuse may increase neck pain. Those who slowly ease their way into orthopedic correction, by alternating between this pillow and their current pillow, achieve the best results.
---
TheraBand™ Kinesiology Tape eliminates misapplication – even for beginners – with our exclusive XactStretch™ Technology. Our unique stretch guide indicators allow users to get the right stretch, every time. By incorporating Cramer's Sports Medicine expertise, TheraBand Kinesiology Tape sticks and provides durable support for up to 5 days. It works because it sticks.
Purchase TheraBrand Tape on Amazon

Watch instructional videos on how to properly tape on TheraBrand.com.
---
The compression sleeves help reduce the recovery time of muscles and supports improved circulation and oxygenation of working muscles. Copper Fit provides support for muscle stiffness, soreness and pain.
Click on the item you would like to order.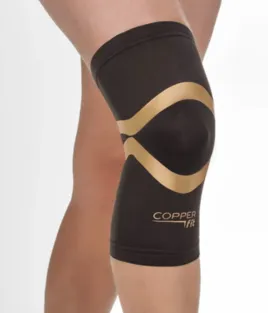 ---
TriggerPoint foam rollers are designed to replicate the feeling of a massage therapist's hands to target and relieve tired muscles. Lightweight, portable, and compact, TriggerPoint rollers can be used wherever you go – at home, at the gym, or on-the-go.
Order roller on www.triggerpointe.com
Watch instruction videos on how to use Trigger Point rollers.
---
Exercise Ball 65 CM
Order on Amazon
---
Varidesk adjustable standing desk converters for anyone ready to take their workspace to an ergonomic level. Their height-adjustable desk riser solutions convert any desk into a stand-up desk, and the large display surface gives you plenty of space for monitors, documents and other accessories.
Order on www.vari.com